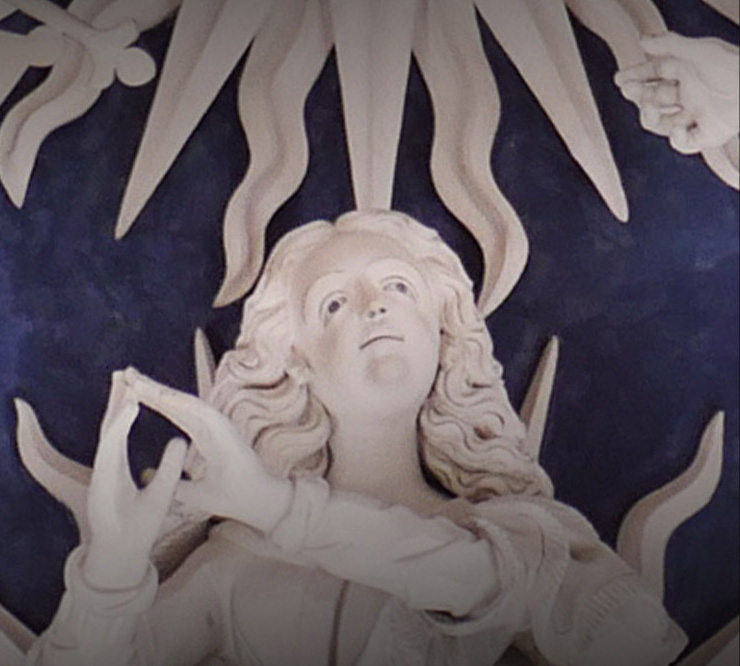 Italian Concerti
Famous Baroque solo concerti from Bologna and Venice to London. Works by: Antonio Vivaldi, Arcangelo Corelli, Giuseppe Torelli, Allesandro Stradella, George Frideric Handel.  LEARN MORE ABOUT THE PROGRAM >
October 29, 2021 – 7:30pm
Saint James Place, Great Barrington, MA
October 30, 2021 – 4:00pm
Trinity Church Lakeville, Lakeville, CT
COVID UPDATE
For our audience members: Admission to the concerts is possible only with proof of full vaccination at the door. Masks are required indoors at all times. Both venues will operate at reduced capacity. Our venues have improved ventilation, using forced airflow that does not recycle the inside air. All of our performers, staff members and volunteers are fully vaccinated, and wear masks at all times during the events.
Three J.S. Bach Arias, Tallis' Lamentations, Spiritual "Were you there"
Part 2 of Crescendo's Virtual Season 2020-21
Your generosity, in any amount, sustains work like this concert program, especially during this crucial time. Please consider a gift to Crescendo today!
History and performance of Negro Spiritual and Gospel music – with baritone Jermaine Woodard Jr.!
Join Christine Gevert for a conversation with baritone Jermaine Woodard Jr. all about gospel music!  Recorded: December 9, 2020
Modern Latin American Choral Music with Andean influence
Carlos Boltes Palma, award winning charango and viola player, and expert in Latin American music talks with Crescendo's Founding Artistic Director Christine Gevert about the influence of Andean heritage in the choral music of the late 19th and the 20th centuries.
Besides well-known Argentinian composer Ariel Ramirez's Misa Criolla and Navidad Nuestra, other works will be explored, with special emphasis on Jaime León's Misa Andina (1981), premiered by Crescendo in the U.S. in 2014.
Photo of Carlos Boltes Palma by: Edward J Parent.
Who is Crescendo, and what is their story? Join Christine Gevert, Artistic Director of Crescendo, and singers Kathy Drake and Tom Schindler as they share some of their favorite moments from seasons past, and what they're most looking forward to in this virtual season of music.
This season, Crescendo will be taking our music online in our Virtual Season of offerings!
Through a series of regular videos, culminating in a full program on December 19th at 4pm ET, Crescendo will present some of the greatest choruses, arias and recitatives of Bach's Christmas Oratorio, parts I & II. This season will include "Villancicos" of the Colonial Baroque in South America, by composers such as Juan de Araujo and Matías Durango, and also excerpts of famous Argentinian 20th century's composer Ariel Ramírez's Navidad Nuestra. We will also embark this year in exploring a genre and style that we have not yet performed with Crescendo: compositions by black composers, based on the Negro Spiritual and Gospel music.
"Alleluia" from Coronation Anthem HWV 260 by George Frideric Handel
Crescendo Chorus and Period Instrument Orchestra, directed by Christine Gevert. October 2019
Excerpt of Act I of Acis y Galatea by Antonio de Literes
Crescendo Vocal Ensemble, soprano Catherine Hancock, and Period Instruments. Co-directed by Salomé Sandoval and Christine Gevert. December, 2019
Allegro from Sonata Op.1 No. 6 by Giovanni Pittoni
Hideki Yamaya, theorbo and Christine Gevert, organ. September 2019
"Sey nun wieder zufrieden, meine Seele" à 8 by Johann Michael Bach
Crescendo Chorus and Period Instrument Orchestra, directed by Christine Gevert, May 2019
Excerpts of "West Lake Cycle" by John Myers, commissioned for and premiered by Crescendo Chorus, Speaker and instruments, in 2013.
"Vidi Speciosa" à 6 by Tomas Luis de Victoria
Crescendo Vocal Ensemble, Hideki Yamaya, theorbo and Christine Gevert, organ. February 2020
"Hodie completi sunt" à 8 by Hieronymus Praetorius
Crescendo 'Virtual' Vocal Ensemble, directed by Christine Gevert, organ. Recorded remotely and assembled digitally in May 2020
All recordings, except "Hodie completi sunt" are live recordings. All used with permission by the performers. All scores are in the Public Domain, or are used with permission of the editor.
Exploring the Baroque Trumpet
Hear about the history of the Baroque Trumpet from First Trumpet of the Crescendo Period Instrument Orchestra, Christopher Belluscio!
Video Produced by Adam Reinwald – Open Voices, LLC and Sara Langworthy – DeveloPlay, LLC
Hear from experts Luciana Kube (singer, philologist) and Paul Feller (musicologist) as they discuss the origin and musical background of the villancico.
Get to know the Baroque Guitar!
Learn about the Baroque Guitar – it's history and differences from a modern guitar – and hear special guest Hideki Yamaya play a piece on his baroque guitar! Video Produced by: Sara Langworthy, DeveloPlay LLC