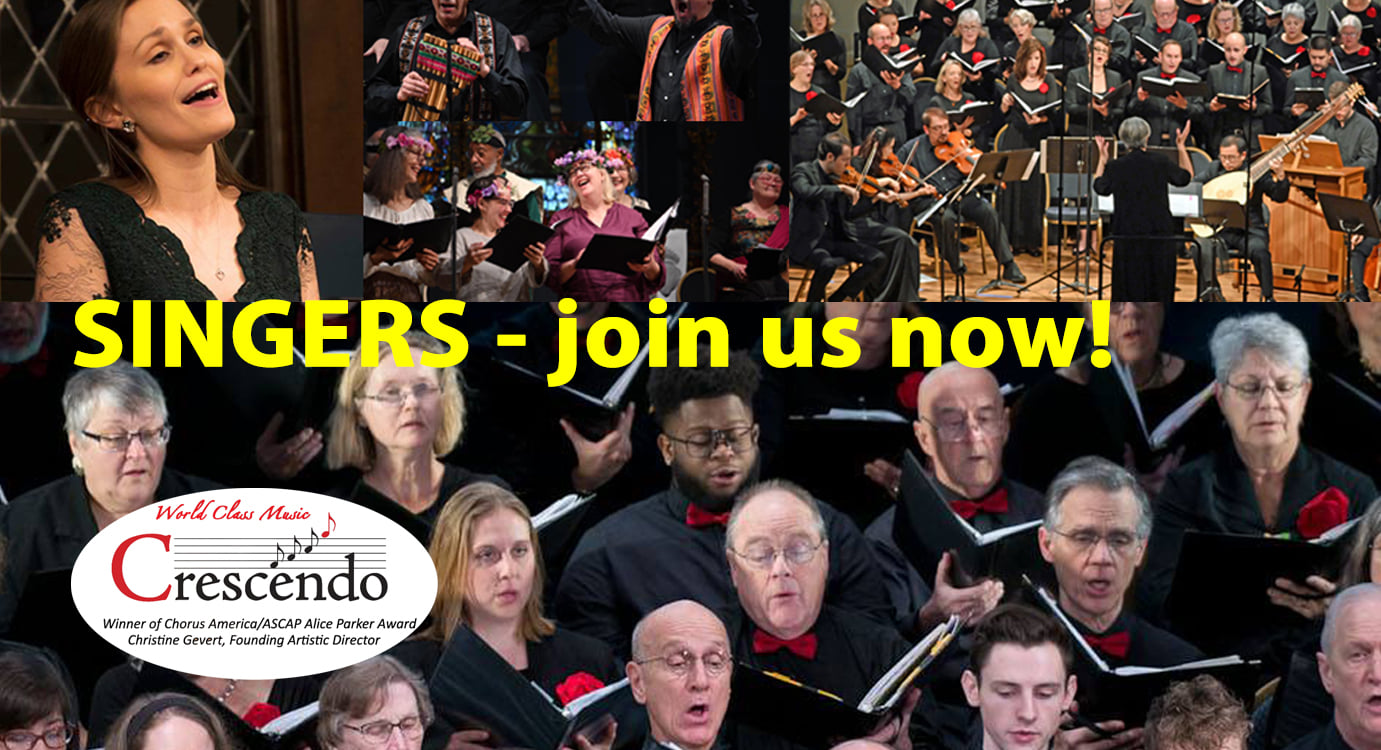 SINGERS based in the Berkshires are invited to join Crescendo's Ensembles: Crescendo Chorus, Crescendo Vocal Ensemble, Crescendo Young Artists Program. We have openings for both amateur and paid professional positions in all voice groups. A limited number of scholarships are available. We regularly perform in Lakeville, CT and Great Barrington, MA. Learn more, and schedule and audition by writing to: crescendo@crescendomusic.org
Crescendo's mission is to give its audience and performers classical music experiences that are emotionally alive and personally meaningful.
Who is Crescendo, and what is their story? Join Christine Gevert, Artistic Director of Crescendo, and singers Kathy Drake and Tom Schindler as they share some of their favorite moments from seasons past, and what they're most looking forward to in this virtual season of music.
This season, Crescendo will be taking our music online in our Virtual Season of offerings!
Through a series of regular videos, culminating in a full program on December 19th at 4pm ET, Crescendo will present some of the greatest choruses, arias and recitatives of Bach's Christmas Oratorio, parts I & II. This season will include "Villancicos" of the Colonial Baroque in South America, by composers such as Juan de Araujo and Matías Durango, and also excerpts of famous Argentinian 20th century's composer Ariel Ramírez's Navidad Nuestra. We will also embark this year in exploring a genre and style that we have not yet performed with Crescendo: compositions by black composers, based on the Negro Spiritual and Gospel music.
Music in this video:
"Alleluia" from Coronation Anthem HWV 260 by George Frideric Handel
Crescendo Chorus and Period Instrument Orchestra, directed by Christine Gevert. October 2019
Excerpt of Act I of Acis y Galatea by Antonio de Literes
Crescendo Vocal Ensemble, soprano Catherine Hancock, and Period Instruments. Co-directed by Salomé Sandoval and Christine Gevert. December, 2019
Allegro from Sonata Op.1 No. 6 by Giovanni Pittoni
Hideki Yamaya, theorbo and Christine Gevert, organ. September 2019
"Sey nun wieder zufrieden, meine Seele" à 8 by Johann Michael Bach
Crescendo Chorus and Period Instrument Orchestra, directed by Christine Gevert, May 2019
Excerpts of "West Lake Cycle" by John Myers, commissioned for and premiered by Crescendo Chorus, Speaker and instruments, in 2013.
"Vidi Speciosa" à 6 by Tomas Luis de Victoria
Crescendo Vocal Ensemble, Hideki Yamaya, theorbo and Christine Gevert, organ. February 2020
"Hodie completi sunt" à 8 by Hieronymus Praetorius
Crescendo 'Virtual' Vocal Ensemble, directed by Christine Gevert, organ. Recorded remotely and assembled digitally in May 2020
All recordings, except "Hodie completi sunt" are live recordings. All used with permission by the performers. All scores are in the Public Domain, or are used with permission of the editor.
"Crescendo is a unique organization with a stellar reputation in the early music world. Members of Boston's and New York's early music communities have grown to admire and respect Crescendo as one of the most groundbreaking of ensembles in the U.S."
Crescendo is a family of music lovers that bring exquisite choral music to audiences throughout New England.
"Over the years some in our area thought that Crescendo couldn't succeed with music unfamiliar to audiences…Our packed houses and standing ovations have proven them wrong. Christine challenges us, the singers, to master the music, and works with each one of us to be the best that we can be."
"Music makes more people milder and gentler, more moral and more reasonable."