Recorded October 29, 2021
Saint James Place,
Great Barrington, MA
Members of the Crescendo Period Instrument Orchestra
directed by Christine Gevert
With soloists:
Chris Belluscio, Natural Trumpet
Jeremy Rhizor, Violin
David Bakamjian, Violoncello
Hideki Yamaya, Mandolin
Christine Gevert Organ
Robin Hood Radio with Marshall Miles interviews Christine Gevert about the December 2022 Program
Learn More About All of the Performers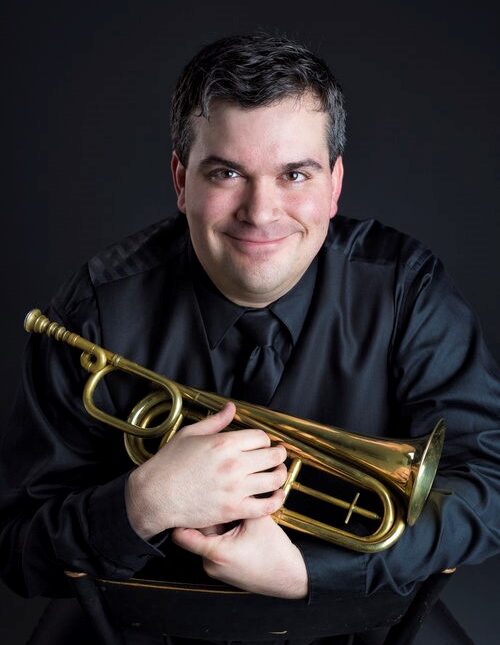 Early brass instrument specialist Chris Belluscio's insatiable passion for original instruments has led to performances on Baroque trumpet, keyed trumpet, keyed bugle, English slide trumpet, demilune, early orchestral valve trumpets and an ever-expanding array of wild and wonderful things. He has worked with a wide variety of ensembles including The Handel and Haydn Society, Boston Baroque, Cambridge Concentus, The Boston Camerata, Rebel, The Arcadia Players, Emmanuel Music, The Coates Brass Band and the Newbury Cornet Band. He has given demos, lectures and masterclasses on modern and historical brass performance throughout the country including the Museum of Fine Arts in Boston, The Metropolitan Museum in New York and numerous colleges and institutions. Christopher holds degrees from Boston University, The Hartt School, and the University of Cincinnati College-Conservatory of Music.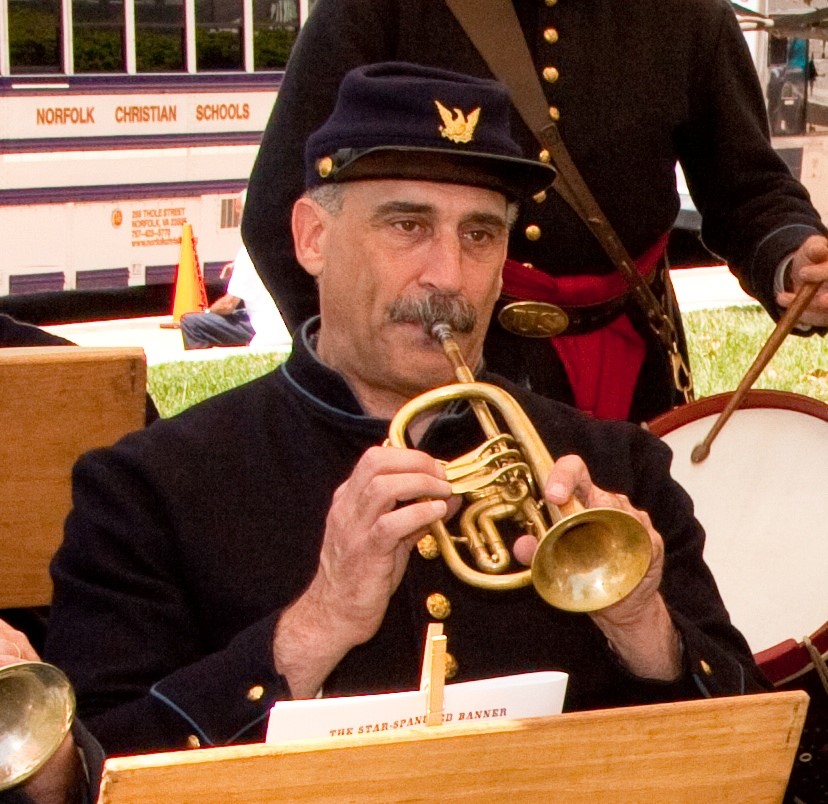 Brian Kanner, trumpet, specializes in historic performance of music from the Baroque era, studying natural trumpet with Barry Bauguess and Kris Kwapis. Brian has performed with such early music groups as REBEL, Yale Schola Cantorum, Grand Harmonie, Bourbon Baroque, members of Julliard415 and the U.S. Army Old Guard's Baroque Trumpet Ensemble, as well as the Westchester Oratorio Society, Crescendo, Burlington Choral Society and Kentucky State Opera. He has also performed at Oberlin College's Baroque Performance Institute, the Maryland Early Brass Festival and the Historic Brass Society. Brian also performs music from the Civil War and Victorian eras on 1860s cornets with The Coates Brass Band, Federal City Brass Band, 26th North Carolina Regimental Band and Newberry's Victorian Cornet Band. He has performed at the Smithsonian Museum of American History, Ford's Theater, The Kennedy Center, the National Archives, Arlington House, the Vintage Brass Festival and Gettysburg. Brian is past President of the National Association for Civil War Brass Music. Brian graduated from the University of Buffalo, where he played in its symphonic orchestra and studied trumpet with Charles Gleaves of the Buffalo Philharmonic.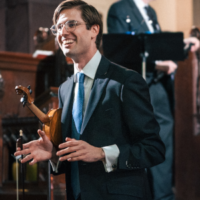 Jeremy Rhizor, violin. Noted for playing "virtuosically but with fluid grace" by The New York Times, Rhizor performs on the violin with early music organizations throughout North America such as Aureas Voces in Nova Scotia, Alchymy Viols in Indiana, Ensemble VIII in Texas, Mountainside Baroque in Maryland, the Washington Bach Consort in Washington, DC, and Bach Vespers and the American Classical Orchestra in New York. In October 2021, he will be the guest concertmaster of the Indianapolis Baroque Orchestra for a Naxos Records recording. He recently performed for the 40th Anniversary Celebration of Music Before 1800, gave a recital tour in Nova Scotia, and led the Swedish premiere of Pasquini's oratorio La sete di Christo.
As the founder and artistic director of the Academy of Sacred Drama, Rhizor built an organization inspired by Baroque academies into an institution that champions the performance and research of sacred drama. He facilitates the publication of the Sacred Drama Journal—a journal for general readership that explores the music and themes of Baroque oratorio. From the violin, Rhizor rehearses and leads performances for the Academy.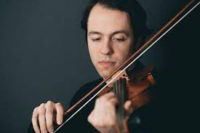 Edson Scheid, violin, holds degrees from the Universität Mozarteum Salzburg, the Yale School of Music and The Juilliard School, where he was the recipient of a Kovner Fellowship. He is a two-time winner of the Historical Performance Concerto Competition at Juilliard, and a recipient of the Broadus Erle Prize at Yale. A native of Brazil, Edson Scheid is based in New York City, where he plays with the city's leading period orchestras. He frequently performs throughout the United States, on both modern and period instruments, and in Europe, Asia, North and South America with such ensembles as Il Pomo d'Oro and Les Arts Florissants.
Scheid's many performances of Paganini's 24 Caprices, on both period and modern violins, have been received with enthusiasm around the world. His second solo album, "On Paganini's Trail… H. W. Ernst and more", has been released under the Centaur Label – the first recording ever of this repertoire on a period violin. New York Concert Review writes that "Mr. Scheid is a superb violinist and a musician who can handle the fiendish challenges of this repertoire while finding the music in it.", and Early Music America praises Edson Scheid for taking "his time through these works, letting them breathe without losing sight of execution or musicality…"
Since April 2020 Edson Scheid is a violin teacher at the Il Pomo d'Oro Academy, offering masterclasses on period instruments.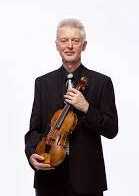 Jörg-Michael Schwarz, violin, a prize winner in several international violin competitions, is one of North America's leading Baroque violinists. He has performed as soloist and chamber musician throughout the Americas, Asia, Australia, and Europe. A recipient of numerous grants and scholarships, he studied violin in Germany, and at the Juilliard School in New York. As soloist he has appeared with the Scottish Chamber Symphony under Yehudi Menuhin, Berne Symphony Orchestra, New Hampshire Symphony Orchestra, and Heilbronn Symphony Orchestra, among others. Co-founder and director of ensemble REBEL, co-founder of the Ravel Quartet Köln, the Orfeo Chamber Soloists, and the Monadnock Quartet, he was concertmaster of the Juilliard Orchestra, and the New Hampshire Symphony Orchestra. As Baroque violinist he has performed with Marie Leonhardt, Jaap Schroeder, Albert Fuller, Reinhard Goebel, the English Baroque Soloists, the Amsterdam Baroque Orchestra, Anima Eterna, the Smithsonian Chamber Orchestra, and Musica Antiqua Köln. He has also served as concertmaster of the Connecticut Early Music Festival Orchestra, the Barockorchester Stuttgart, Grande Bande, the New York Collegium, American Bach Soloists, and the Portland Baroque Orchestra. His recording of Vivaldi's Four Seasons was released in 1992 on Chesky Records.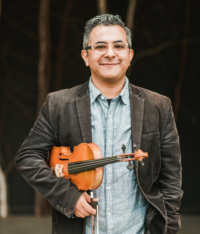 Job Salazar Fonseca, violin. Former violinist in the Monterrey Symphony Orchestra (OSUANL) and Opera Nuevo Leon, and previous Violin Faculty at the Music Department of the Universidad Autonoma de Nuevo Leon (UANL), he was showcased in the Chamber Music Festival of Nuevo Leon, Festival Internacional de Música Mexicana, CONARTE, KBYU Radio, and Radio Nuevo Leon. Salazar-Fonseca currently performs with The Unitas Ensemble, Harvard Baroque Chamber Orchestra, Crescendo, American Baroque Orchestra, Portland Bach Experience, The Oriana Consort and The Halfmoon. He is on the faculty at The Powers Music School. He holds degrees from BYU-Idaho, The Boston Conservatory at Berklee and The Longy School of Music of Bard College. He studied with Emma Rubinstein, Markus Placci, Saul Bitran, Marc Destrube, Dana Maiben and Rachel Podger. As a member of Early Music America, he is a member of the EPLC (Emerging Professional Artist Council) and the IDEA Task Force. He is also a member of the VDGSA (Viola da Gamba Society of America), and The American Federation of Musicians.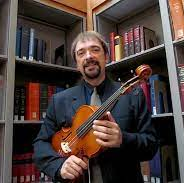 Mark Bailey, viola, is the founder and artistic director of the American Baroque Orchestra. Bailey specializes in Slavic music of the 17th and 18th centuries, in addition to baroque, classical, and romantic repertoire, and is the current director of the Yale Russian Chorus. In 2011, Bailey founded the American Baroque Orchestra, an authentic period instrument orchestra that performs throughout New England. He was the assistant conductor of the Eastman Philharmonia, the opera department at the Eastman School of Music, and for the Heidelberg Castle Opera Festival in Heidelberg, Germany.
As a baroque violist, Bailey most recently founded the Musica Vera Duo in 2015, with guitarist and conductor Kevin Sherwin. Bailey has also appeared as a violist with the American Baroque Orchestra, the Arcadia Players, Schola Cantorum at Yale University, and The Sebastians. His compositions and arrangements have been performed by Tafelmusik Baroque Orchestra, which commissioned several works from Mr. Bailey, and other works of his have premiered at Lincoln Center, Yale University, Emmanuel Episcopal Church, Boston, and throughout the United States, as well as at St. Basil's Cathedral in Moscow, Russia. Bailey is currently the Head of Historical Sound Recordings at Yale University.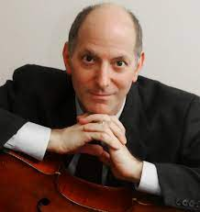 Cellist David Bakamjian performs regularly as a recitalist, ensemble player, and recording artist on both modern and baroque cello. In addition to appearances in New York's premiere concert halls, he has appeared several times on National Public Radio and WQXR, and was a winner or finalist in four international chamber music competitions. As a member of the Casa Verde Trio, he completed six critically acclaimed national tours and a month-long tour of China. He has performed as soloist with the Allentown Symphony, Philharmonia Virtuosi, Beijing Symphony, Early Music New York, Bachanalia Festival Orchestra, Musica Bella, the Hunterdon Symphony, and the Lehigh University Philharmonic, and he has served as principal cellist for several orchestras, including the Berkshire Opera, New York Grand Opera, Bachanalia, the High Mountain Symphony, and the Miss Saigon theater orchestra on Broadway. On baroque cello, he performs with Concert Royal and the American Classical Orchestra, and he was principal cello of Early Music New York for several years. He is a founding member of the New York Classical Quartet and of Brooklyn Baroque, whose CDs were deemed a "must buy" by the American Record Guide. His recording of cello sonatas by Boismortier was released in 2011 to critical acclaim. Mr. Bakamjian was featured at the Metropolitan Museum of Art in Evocations of Armenia, a specially conceived program that he co-wrote with actress Nora Armani for solo cello and spoken word. By special invitation, they subsequently took the program to Armenia. A dedicated teacher, he is the director of both the Summer String-In, where he teaches and performs as a member of the Simon String Quartet, and of the three Play Week chamber music workshops for adult amateurs. He earned his B.A.at Yale, and his Master's and Doctorate degrees at SUNY Stony Brook, and he was a faculty member of Lehigh University for eight years.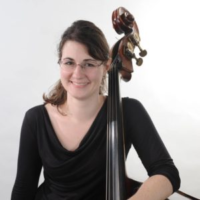 Julianne Russell, double bass, is a native of Raleigh, North Carolina. She studied double bass performance at the Indiana University Jacobs School of Music under the direction of Lawrence Hurst and Bruce Bransby, and at the Boston University College of Fine Arts under Edwin Barker. She has performed on modern double bass with the Hong Kong Philharmonic Orchestra, the Boston Symphony Orchestra, the Boston Pops, the Boston Lyric Opera, the North Carolina Symphony Orchestra, and the New World Symphony Orchestra, among others. Her period double bass playing has led her to perform with such notable Boston based period music groups as Cambridge Concentus, and Grand Harmonie. She is a member of the Hartford Symphony Orchestra, and the Springfield Symphony. She performs on the only double bass made by famed American luthier Jon van Kouwenhoven.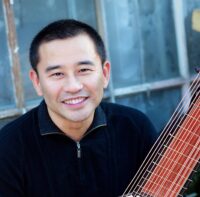 Hideki Yamaya, mandolino and theorbo, is a performer of lutes, early guitars, and early mandolins based in Connecticut, USA. Born in Tokyo, Japan, he spent most of his career in the West Coast before settling in New England, where he is a freelance performer and teacher. He has a B.A. in Music and an M.A. in Ethnomusicology from University of California, Santa Cruz, where he studied with Robert Strizich, and an M.F.A. in Guitar and Lute Performance from University of California, Irvine, where he studied with John Schneiderman. He also studied with James Tyler at University of Southern California and with Paul Beier at Accademia Internazionale della Musica in Milan, Italy. In demand both as a soloist and as a continuo/chamber player, Hideki has performed with and for Portland Baroque Orchestra, Portland Opera, Santa Cruz Baroque Festival, Musica Angelica Baroque Orchestra, Los Angeles Master Chorale, Los Angeles Opera, California Bach Society, Oregon Bach Festival, Astoria Music Festival, Music of the Baroque, and Shakespeare's Globe Theatre. He is also recognized as an effective communicator and teacher, and has given masterclasses and workshops at Yale University, University of California, Santa Cruz, Montana State University, Oregon State University, and Aquilon Music Festival.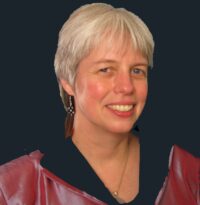 Christine Gevert, organ and harpsichord, holds a master's degree in organ and early music performance from the Hochschule für Musik und Theater, Hamburg, Germany. After earning a bachelor's degree in music theory from the Conservatorio Nacional de Chile, she studied choral and orchestral conducting in Berlin and harpsichord in London. She has taught at the Berliner Kirchen-musikschule, the Universidad de Chile, and the Pontificia Universidad Católica in Santiago, Chile.
While conducting and performing in Europe and South America, she also recorded for Carpe Diem and Alerce.  She has led master classes and workshops in early music, harpsichord, and baroque vocal technique at music festivals in Germany, Chile and the U.S., and has taught historic keyboards at the Berlin Church Music School in Germany, and locally at Bard College at Simon's Rock. Ms. Gevert has appeared at the Washington Early Music Festival, the Berkshire Choral Festival, the Fringe concerts of the Boston Early Music Festival, and the Amherst Early Music Festival.
In recent years she has given solo harpsichord recitals at the Early Music Festival in Narol, Poland, at the historic Auditorium Wanda Landowska near Paris, at the Metropolitan Museum of Art, and the Brooklyn Beat Festival. She performed at the International Festival of American Renaissance & Baroque Music at the Chiquitan Missions in Santa Cruz, Bolivia. She has authored and published more than eighty historical basso continuo realizations with the Swiss music publisher, Amadeus Verlag. The founder and artistic director of Crescendo and her own baroque ensemble Les Inégales, Christine is currently music director at Trinity Episcopal Church, Lime Rock, CT.
Antonio Vivaldi  (1674-1741)
Concerto in C major RV 537 for Two trumpets, strings and basso continuo
Concerto in C major, RV 425 for mandolino, strings and basso continuo
Sonata RV 43 Op. 14 No. 3 in A minor for violoncello and basso continuo
Alessandro Stradella (1639-1682)
Sonata à 3 for two violins and basso continuo
Tomaso Albinoni (1671-1751)
Concerto in B flat major Op.9/1 for violin and orchestra
George Frideric Handel (1685-1759)
Concerto F major HWV 293 (Op. 4/5) for Organ, strings and b. continuo
Francesco Onofrio Manfredini (1684—1762)
Concerto in C major (1711) for two trumpets, strings and b. continuo
On October 29 and 30 the award winning music organization Crescendo followed its September choral concert featuring well-known and beloved choral music with an orchestral concert devoted to the famous Baroque solo concertos from Rome, Bologna, Venice and London.
The concerto form was popularized by Rome-based composer Arcangelo Corelli, and in the first part of the 18th century it dominated Italian instrumental music. Violin virtuosity reached a new height around the year 1700. Composers like Corelli, who was a virtuoso violinist, were the first to enjoy international recognition for their strictly instrumental ensemble works at a time when vocal music—mainly opera—was still predominant in Europe. Another giant of the Baroque, Antonio Vivaldi, also was an outstanding violin virtuoso, and he composed many works for strings and solo instruments. His playing was said to be so exhilarating and daring that a contemporary described himself as "terrified" when he heard it. Handel's concertos were composed for performance in the intervals of his own oratorios.
Neither Louis Armstrong nor Miles Davis would have become such giants of trumpet without composers such as Torelli, Corelli and Vivaldi, who developed the repertoire for this instrument in their Baroque trumpet concertos. Our program features some of the most beloved works by these composers. Often associated with festive and splendorous celebrations such as coronations and Christmas, these are real "feel-good" pieces, offered to our audience in the troubled times of the pandemic.
Performers are members of the Crescendo Period Instrument Orchestra with soloists Jeremy Rhizor, violin, Chris Belluscio, natural trumpet, David Bakamjian, violoncello, Hideki Yamaya, mandolino, and Crescendo's founding artistic director Christine Gevert, organ and direction.