Mientras me abraza–Baroque, Latino, and Folk Fusion
Recorded April 9, 2022 @ 4:00 PM
Saint James Place,
Great Barrington, MA
Performers:
Job Salazar Fonseca, violin and percussion
Carlos Boltes, viola and charango
Christine Gevert, virginal
Robin Hood Radio with Marshall Miles interviews Christine Gevert about the December 2022 Program
Program
Singet dem Herrn BWV 225/I
Johann Sebastian Bach (1685-1750), arr. Christine Gevert
Four Mexican Mariachi Tunes with Baroque Improvisations
La Bruja  Son Jarocho Tradicional, Mexico (Introduction: Lamento Bass Passacagia)
Anonymous, arr. Job Salazar and C. Gevert
Jesusita en Chihuahua  Polka / Norteño (Introduction: Gavotte)
Quirino Mendoza y Cortés (1862–1957), arr. J. Salazar and C. Gevert
La Llorona  Ranchero / Canción Zapoteca, Tehuantepec, Oaxaca (Introduction: Andalusian Chaconne)
Anonymous (Mexico), arr. J. Salazar and C. Gevert
Jarabe Tapatío  Son Jarocho, Veracruz (Introduction: Gigue)
Jesús González Rubio (d. 1874), arr. J. Salazar and C. Gevert
Concerto Polonois TWV 43:G7
Georg Philipp Telemann (1681-1767), arr. C. Gevert
Dolce / Allegro / Largo / Allegro
INTERMISSION 
Perpetuo forever (2003)  Salsa rhythm, Puerto Rico
Dan Román (b. 1974)
Two Huaynos
Estudio para Charango  Huayno, Bolivia
Mauro Núñez Cáceres (1902-1975), arr. Horacio Durán (b. 1945) and Italo Pedrotti (b. 1966)
Vírgenes del sol  Huayno, Peru
Jorge Emilio Bravo de Rueda Querol (1895-1940), arr. Carlos Boltes and Job Salazar
Three Cuecas
La Concheperla  Marinera, Peru
José Z. Alvarado, arr. C. Boltes and C. Gevert
Mientras me abraza (2021)  Zamba, Argentina
Esteban Ariel D'Antona (b. 1973)
Mi Chilena  Cueca de Salón, Chile
Francisco Soler (b. 1838), arr. C. Boltes and C. Gevert
Orchestral Suite No. 2 in B minor BWV 1067
Johann Sebastian Bach, arr. C. Boltes and C. Gevert
            Polonaise – Double / Menuet / Badinerie
Learn More About All of the Performers

Carlos Boltes, charango and viola
Carlos was born in Santiago de Chile, where he began his musical studies learning the charango from his brother Giovanni Vaccani, later he joined the Chilean group Barrocco Andino with which he made numerous tours of Chile and South America. He has a Bachelor's degree from the Universidad Católica de Chile and a Master's degree from Carnegie Mellon University in viola performance. His main teachers have been: Enrique López, Atar Arad and Larry Dutton (Emerson String Quartet). He has been the principal violist of the Santiago Municipal Theater Chamber Orchestra and the Virtuosi Chamber Orchestra of Connecticut and has recorded for Naxos, Brioso and CBS Records. In 2000 he formed the Duo Alturas together with Canadian guitarist Scott Hill. In these 20 years they have released more than 50 works written for the Duo and numerous ensembles. Among them is the Elqui Trio where they join forces with the Flute player and expert in Andean wind instruments, Gonzalo Cortés. Last year they formed a trio ADAA with the notable French pianist and singer Alexandra Aubert, with whom they have toured Chile and the United States.
Mr. Boltes has been awarded an Individual Artist Scholarship from the Boston Fund and a Performance Scholarship from the Andes Foundation and also received the Connecticut "Latino de Oro" Award 2010. With the Duo Alturas he has won numerous awards: First Prize at the 2006 New England International Chamber Music Competition to the 2010 CMA / ASCAP Award for Innovative Music Programs. They recently won the Jury Award at the "World Folk Vision 2020" as the "Best Latin Band" and they were the winners among 3950 participants from 115 countries. Mr. Boltes in addition to his career as an interpreter has dedicated himself to teaching, 10 years in the Community Division of the University of Hartford, 4 years in Intake Academy teaching charango, viola and violin and in numerous festivals in Latin America, Brazil, Eleazar de Carvallo , Classic Bolivia in La Paz. Calbuco Summer Festival and Mancera Festival in Valdivia, Chile. He has taught numerous Master Classes in the United States, Central and South America and Europe.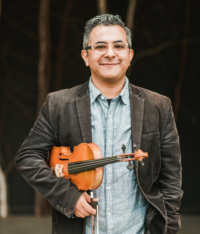 Job Salazar Fonseca, violin and percussion
"Every single one of the works was performed with virtuosity and passion."
– CONARTE, Mexico
Former violinist of the Orquesta Sinfónica de Nuevo León (OSUANL) and Ópera Nuevo Leon, and previous Violin Faculty at the Music Department of the Universidad Autónoma de Nuevo León (UANL). He was showcased in the Chamber Music Festival of Nuevo León, Festival Internacional de Música Mexicana, CONARTE, KBYU Radio, and Radio Nuevo León. Salazar-Fonseca currently performs with Crescendo, American Baroque Orchestra, Portland Bach Experience, The Unitas Ensemble, Harvard Baroque Chamber Orchestra, The Oriana Consort, The Halfmoon and newly formed BaroqueFolk with Charanguista Carlos Boltes Palma. He is on the faculty at The Powers Music School and is a guest artist at Tufts University with the Early Music Ensemble. He holds degrees from BYU-Idaho, The Boston Conservatory at Berklee and The Longy School of Music of Bard College.
He studied with Emma Rubinstein, Markus Placci, Saúl Bitran, Marc Dèstrube, Dana Maiben and Rachel Podger. As a member of Early Music America, he is part of the EPLC (Emerging Professional Artist Council) and the IDEA Task Force. He is also a member of the VDGSA (Viola da Gamba Society of America), and The American Federation of Musicians.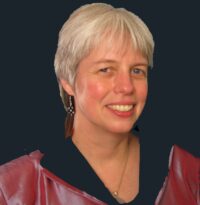 Christine Gevert, virginal, holds a master's degree in organ and early music performance from the Hochschule für Musik und Theater, Hamburg, Germany. After earning a bachelor's degree in music theory from the Conservatorio Nacional de Chile, she studied choral and orchestral conducting in Berlin and harpsichord in London. She has taught at the Berliner Kirchen-musikschule, the Universidad de Chile, and the Pontificia Universidad Católica in Santiago, Chile.
While conducting and performing in Europe and South America, she also recorded for Carpe Diem and Alerce.  She has led master classes and workshops in early music, harpsichord, and baroque vocal technique at music festivals in Germany, Chile and the U.S., and has taught historic keyboards at the Berlin Church Music School in Germany, and locally at Bard College at Simon's Rock. Ms. Gevert has appeared at the Washington Early Music Festival, the Berkshire Choral Festival, the Fringe concerts of the Boston Early Music Festival, and the Amherst Early Music Festival.

In recent years she has given solo harpsichord recitals at the Early Music Festival in Narol, Poland, at the historic Auditorium Wanda Landowska near Paris, at the Metropolitan Museum of Art, and the Brooklyn Beat Festival. She performed at the International Festival of American Renaissance & Baroque Music at the Chiquitan Missions in Santa Cruz, Bolivia. She has authored and published more than eighty historical basso continuo realizations with the Swiss music publisher, Amadeus Verlag. The founder and artistic director of Crescendo and her own baroque ensemble Les Inégales, Christine is currently music director at Trinity Episcopal Church, Lime Rock, CT.
Crescendo and its programming
Crescendo is a national-award-winning music performance organization. For more than fourteen years, Crescendo has presented concerts year-round in northwestern Connecticut, the Berkshires, and the mid-Hudson Valley of New York. The organization is based at Trinity Church Lime Rock in Lakeville, CT.
Founder and Artistic Director, Christine Gevert, is celebrated for her innovative approach to programming and performance. Crescendo's audiences are often rewarded with programs of rarely-heard and newly discovered works. Often Ms. Gevert uses original manuscripts to make her own performing editions for chorus, soloists and orchestra because there are no existing published editions. Frequently our programs feature early and contemporary music works alongside each other, creating a contrast for the listener. Eight new works have been commissioned for our chorus and vocal ensemble. Crescendo has presented ten U.S. premieres.
Crescendo's innovative programming relies on a local base of dedicated and talented auditioned amateurs and professionals who make up the Crescendo Chorus and Crescendo Vocal Ensemble. Crescendo has its own Period Instrument Orchestra and Andean Ensemble, comprised of professionals from New York, Boston, Philadelphia, Washington DC and Hartford. These instrumentalists and the internationally recognized soloists who regularly collaborate with Crescendo bring the performances to a level comparable to the best ensembles in the country. Instrumental music ensembles and concerts with vocal soloists have been part of Crescendo's programs since the beginning. Some of the performers have been: Julianne Baird (Philadelphia) soprano, Nicholas Tamagna (New York) countertenor, Peter Sykes (Boston) and Władysław Kłosiewicz (Warsaw, Poland), harpsichord, Chris Bellsucio (Boston), natural trumpet, Tricia van Oers, recorder, I Fagiolini Renaissance Vocal Ensemble (London, UK), L'Orchestre de Chambre Francaise (Paris, France), Peter Lekx (Montreal) baroque violin, Duo Alturas (Hartford) charango, viola and guitar, and Duo Les Inégales, traverso and harpsichord.
We are strongly committed to educational outreach―to our own singers, our audiences and local students. Talented local high school singers and young musicians are coached by Ms. Gevert as part of our "Young Baroque Artist Program", and often play a part in our performances. She and members of the chorus visit local schools to work with students.
Artistic Director Christine Gevert is celebrated for her innovative approach to programming and performance: In 2014 Crescendo won the prestigious Chorus America / ASCAP Alice Parker Award. Today's programming reflects some of the diversity and scope of music that Crescendo is known for.
About the Performance
The Fusion of so-called "Classical" and Folk Music – by Christine Gevert
Generally we expect to hear Western "classical" music in a concert hall or church, and assume that such a setting in which we are today is no proper place for folk music, which belongs to other more informal environments, and perhaps even social circles. In reality this is not quite so, as both genres are much more connected than we might think. While Western classical music is defined by having elements of complexity and formality, and therefore being written out, or notated since the 9th century, folk music is mostly a type of traditional and generally rural music that originally was passed down through families and other small social groups. Folk music, associated with paganism, was excluded as the Christian religion expanded in medieval Europe. But it was included again as the era of the Renaissance with its humanistic ideals began. It is then when folk tunes, texts, rhythms, and the harmonic progressions found their way back into sacred polyphony and secular vocal and instrumental compositions. This trend lessened over time during the Baroque era, and intensified again in the late 18th and during the 19th centuries when folk and rural aesthetic became popular, and nationalistic movements grew stronger in Europe. Something similar occurred in the New World throughout the colonization, and the development of the new American nations in the 19th century. The Western European culture and aesthetics merged with local indigenous traditions, and this fusion colored both the "classical" and the folk music. This subject is much deeper than what we are able to touch upon here, and it also includes the painful subject of the African slaves, who were brought to the American continent. Their cultural legacy plays an important role in much of the music that we so often simply call "Latino" (Latin American).
This program will explore a few aspects of this vast and complex fusion of styles, as well as how Latin American music evolved in different countries. The common denominator is the folk dance. We have chosen three Baroque works by Johann Sebastian Bach and Georg Philip Telemann that have a direct connection to Polish folk music. Their titles or movements contain direct allusion at the style: Concerto Polonois ("Polish Concert") representing Telemann's connection to Polish folk music, and the movements in Bach's Orchestra Suite: Polonaise (a Polish dance, whose roots are folk wedding dances), and Badinerie (a French dance that evolved from an English country dance). The third Baroque work, the opening movement of Bach's monumental sacred motet for double Chorus "Singet dem Herrn" (Sing to the Lord) in our own instrumental arrangement, uses the rhythm of the 'polonaise' as a tribute to his patron August III of Poland, as extensively explained by Polish musicologist and Bach scholar Szymon Paczkowski in his 2016 publication "Polish Style in the Music of Johann Sebastian Bach."
From Latin America we present three contemporary works based on Latin American folk rhythms and tunes, and traditional Mexican, and South American folklore dance tunes in our own instrumental arrangements. Some of the harmonies and bass lines of the Mexican dances show a direct connection to the European Baroque. This inspired us to create improvisations in Baroque style on the bass patterns to introduce them. The connection to Europe is also evident in the use of the 19th century German Polka, which after being introduced by the colonizers became a popular Northern Mexican genre called "norteño."
The History of Mariachi Music – by Job Salazar
    The word mariachi' appears to have originated from a now extinct language of the Coca Indians (one of the oldest indigenous groups living in what is now the state of Nayarit, Mexico). The mariachi is an ensemble, not necessarily a genre of music. The ensemble has evolved since its beginnings in the 18th century. It originally included stringed instruments, such as the vihuela (a 5-string guitar-like instrument, very popular in Spanish-Renaissance) guitarrón (a large fretless bass guitar), harp (a smaller one than the modern pedal harp), guitar, and violins. Played by an all-men-band, mariachi music began as performance of instrumental versions of sones (regional traditional folk tunes). Eventually at the beginning of the 20th century trumpets were added, and vocal songs became the essence of its repertoire, mainly sung by men.
Around the 1940's women started to have a presence role in the mariachi, and by the 21st century women started to form all-female mariachi ensembles. Now many countries around the world have their own mariachi bands with musicians of non-Mexican descent.
The mariachi originated as consequence of the Spanish colonization in Mexico, bringing together the New and Old Worlds. While the colonization itself was troubling and dark for the Mexican people, the manifestation of a new cultural identity in the voice of the mariachi emerged as something utterly beautiful and full of life –  a unique Mexican sound, a sound that represents the meeting of the Indigenous civilizations, of the African enslaved people, and the Spanish colonizers; a sound that has voices the hope and higher aspiration of humanity.
Latin American Dances and their Regional Differences – by Carlos Boltes
    This program features some of the most popular genres of Latin American dance music: the huayno, the cueca and the salsa.
The Chilean cueca, the Argentinian zamba, and the Peruvian marinera are variations of the same dance, and all have the same origin: the zambacueca. The Peruvian zambacueca has elements such as African rhythms combined with Spanish Fandango and indigenous dances. In Chile the name was shortened and continued to evolve. One distinctive characteristic is its poly-rhythmic nature with three against two. After the 19th century Pacific War between Chile and Peru, the popular "cueca chilena" was renamed marinera in Peru to honor their naval combatants. In Argentina the same dance was named zamba and became much slower, perhaps as a result of the colder climate and the vast and lonely geography of the lowlands (pampa). The evolution of the cueca in Chile brought about many different versions of the dance. One of them is the cueca de salón – with greater Spanish influence and more refined to cater to the taste of the high society. Each of the national versions of the cueca dance is distinct and different.
The huayno (also huayño) is another very popular Andean folk dance, prevalent mainly in Peru, Bolivia and Chile, and their neighboring countries. The rhythm is long-short-short is an Afro-indigenous fusion: the African rhythm being much faster than the indigenous one of the Incas. In Argentina it is called carnavalito, and in Chile trote, which is even slower, as is the Peruvian version. Peru was the seat of the Spanish royal court, and therefore its music tends to be more refined, with stronger European influence. In Bolivia the indigenous influence prevailed. For example, the Peruvian charango (a small Andean stringed instrument of the lute family) is more similar to the Spanish guitar, while the Bolivian charango is more rustic, using an armadillo shell as its body.
Sources: Encyclopedia Britannica "Classical Music"; Wikipedia articles "Folk Music", "Polka", "Polonaise", "Cueca", "Huayno", "Mariachi"
About Perpetuo forever – by Dan Román (composer)
   The Perpetuo Forever pieces are an attempt to meld two seemingly dissimilar musical traditions: minimalist and process music, with its repetitive ostinatos and gradual development, and folkloric and popular dance music emerging from Puerto Rico, which includes genres such as the Bomba, Plena, Salsa, and Mambo. These two traditions turned out to have great affinity to one another due to the use of layered rhythms and a sense of perpetual drive and reiteration.