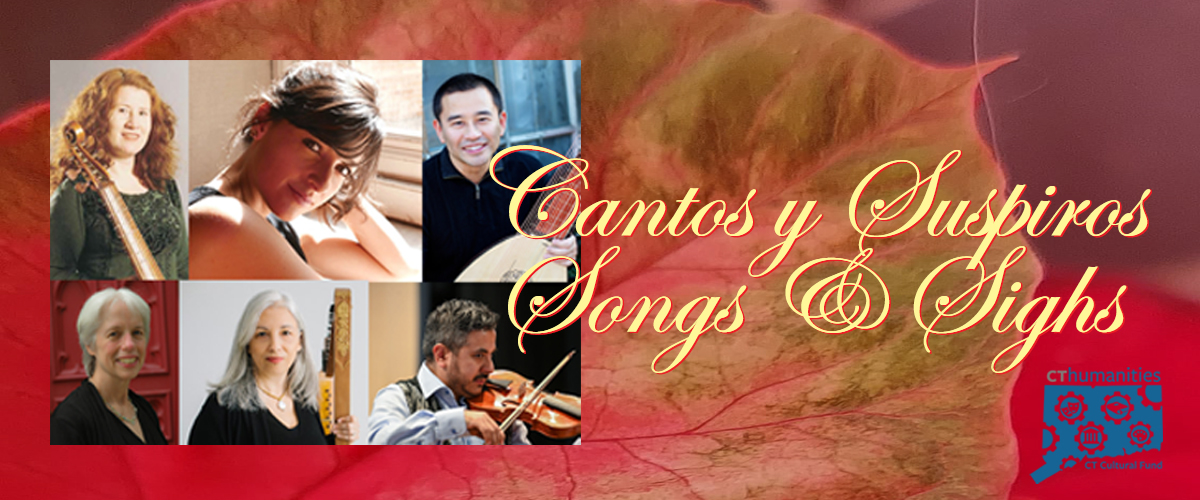 Cantos y Suspiros – Songs and Sighs
Songs and dances of 17th & 18th century Spain and Latin America
Hispanic music of the 17th and early 18th centuries by master composers Juan Hidalgo, Juan de Návas, José Marín, Cristóbal Galán and others. Colorful Spanish and Latin American dances and songs of nature, birds, the sea, wind and the forest, depict the pleasures and treacheries of love; and villancicos and devotional airs – the oldest surviving source of music produced in these regions – illustrate the national identities of these regions.
The most popular forms in Hispanic early Baroque music were the tono humano and tono divino, secular and sacred songs or airs. They were essential elements at social gatherings and religious festivities as theater, domestic and devotional music. Colombian native soprano Camila Parias brings a versatile and unique tone of voice to this repertoire. The diversity of timbres of the instrumental ensemble accompanying  her – a violin, a viola da gamba, a Baroque harp, a Baroque guitar and theorbo, a virginal and an organ –  illustrate the richness of the "human passions " that this music evoques. Some of the titles of the tonos and villancicos speak for themselves:  "Rompa el aire en suspiros" (The air breaks out in sighs), "Pajarillo que bien cantas ausente" (Little bird, your song in absence), "La Borrachita de Amor" (The little drunk lover), "Pajarito que en el aire elevado" (Little bird, soaring high in the air) and "Nace la aurora divina" (The divine dawn is born) – among others.
Performers are: soprano Camila Parias, Baroque harpist Christa Patton, guitarist and theorbist Hideki Yamaya, violinist Job Salazar, viola da gamba player Gina Allende and Christine Gevert, virginal and organ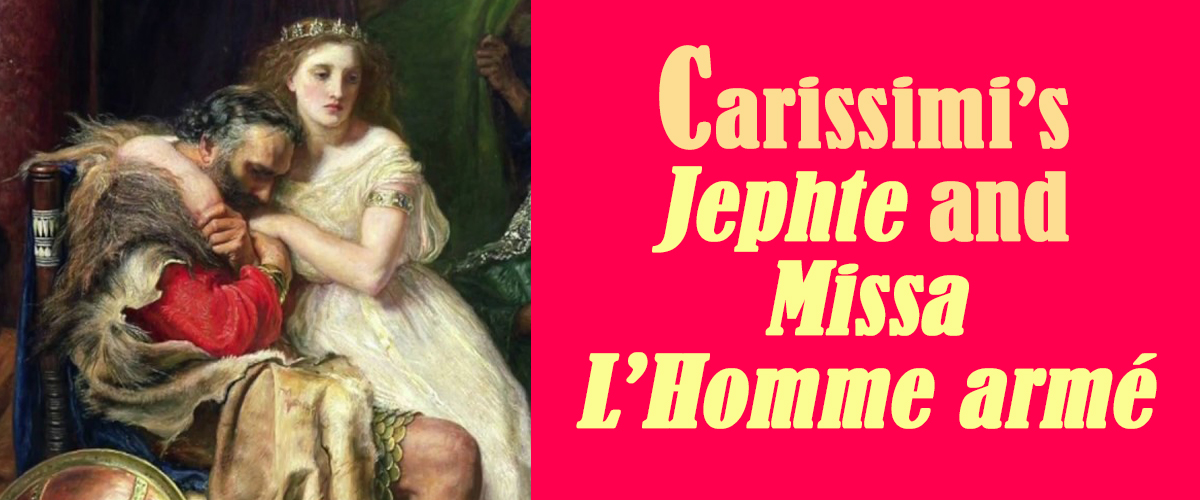 Carissimi's Jephte and Missa L'Homme armé
Two dramatic large-scale vocal works by Giacomo Carissimi
This program features some of the great vocal repertoire before the era of Bach and Vivaldi: works by the 17th century Italian composer Giacomo Carissimi. Carissimi – who continued Claudio Monteverdi's legacy of dramatic vocal music – tells the story of a human tragedy in one of the first oratorios, "Jephte." The Israelite general Jephte and his people celebrate a great military victory, and then sink into despair over the loss of Jephte's beloved daughter. Like in later oratorios – similar to opera – the main characters are sung by soloists: a tenor and a soprano. The narrator role is fulfilled by solos, duets, and ensemble and choral numbers. Among the latter is the famous "Plorate filii Israel" (Weep, Oh ye children of Israel), a lament for six voices by the daughter's virgin companions, in which they bewail her misfortune. This oratorio leaves nothing to be desired, as it presents the full spectrum of emotions: from joy, fear and anger, love and tendernes, triumphal exaltation, desperation and sadness.
Carissimi's twelve-voice mass of the Early Baroque is based on the famous medieval folk tune "The Armed Man." The melody of this chanson is present in each of the five movemets. Missa L'Homme armé is the last one of more than 40 masses composed on this tune over 170 years, and also the one with the largest cast. Singers and instrumentalists are divided into three groups, in the Venetian polychoral style. This type of music, for which Giovanni Gabrielli was famous, creates a lively dialogue by alternating responses of spatially separated groups on stage – a real sonic experience not to be missed!
The musicians: Pablo Bustos, tenor (Jephte), Agnes Coaxley Cox, soprano (Filia), with Kirsten Sollek, alto and Peter Becker, bass (Historicus), sopranos Sarah Fay and Jennifer Tyo, Crescendo Vocal Ensemble and period instrument ensemble: Hideki Yamaya, theorbo, Christa Patton Barqoue harp, Rachel Begley, dulzian, and Robert Eisenstein, Anne Legêne and Erica Warnock, viola da gamba. The ensembles are directed by Christine Gevert from the organ.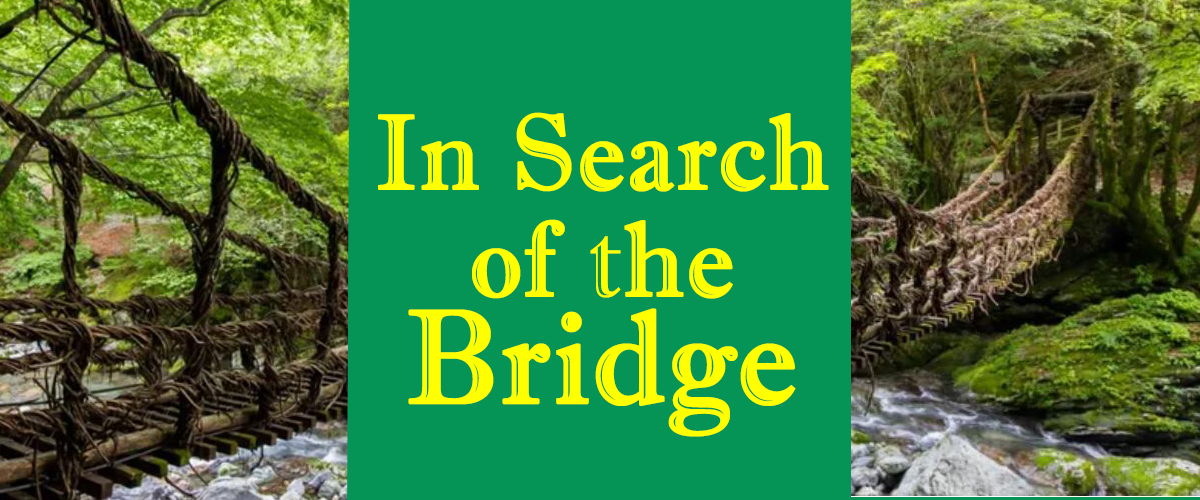 In Search of the Bridge
American 20th century and contemporary choral works – World premiere by John Myers!
The title of this program alludes to poetry by three cultures on the subject of finding a bridge or connection. It includes the world premiere of a large-scale commissioned choral work by Berkshires-based composer John Myers. Myers work for chorus, soloists and instruments presents a fusion of diverse musical styles ranging from traditional Western, to Latin American salsa and Andean themes, to rap-like rhythmic electronic elements. The texts are inspired by the writings of contemporary poets of African-American, Latin American and Appalachian descent: Carole Boston Weatherford (North Carolina), Circe Maia (Uruguay), Marilou Awiakta (Tennessee), and Emily Dickinson (New England). The idea of music as a bridge between cultures will be realized by the creation of a collage and blend of some of the specific styles and art forms that distinguish these cultures.
This collaboration between the composer, Bard College at Simon's Rock, and us at Crescendo, intends to bridge ethnical, political, and religious division, and transcend the arbitrary boundaries that separate us from each other. On the program are also works by African-American composer William Grant Still ("Plainchant for America"), African-Canadian composer Nathaniel Dett ("The Chariot Jubilee"), and excerpts of the Chilean composition remembering the legendary composer, singer-songwriter, folklorist, ethnomusicologist and visual artist Violeta Parra: "Canto para una semilla" (Song for a seed) by Luis Advis in an original choral arrangement.
Performers: Tenor Elliott Paige and José Ignacio Lagos, Jermaine Woodard Jr., Bass, Crescendo Chorus and instrumentalists, including the Composer John Myers on guitar.